Picking a paid online survey site to join can be challenging. These sites are often legitimate ways to earn some extra money online. However, you must ensure that you don't needlessly waste your time and effort taking surveys for pennies, or even worse, not get paid.
Springboard America is a legit paid survey site that offers surveys and focus group participation on many issues touching on politics, economics, and product research—but is it worth it?
In this Maru Springboard America review, we explore the site in detail. We'll look at the types of surveys and focus group studies offered, whether they are trustworthy, and how much you can expect to earn for your participation.
Let's take a closer look.
About Springboard America
Springboard America, part of the Maru Group Canada, was established in 2009 and is one of the leading survey panels in the US. They offer surveys that influence decisions on market products and services, as well as various political and social issues through the opinions of their participants.
They have partnered with a variety of organizations in the US to better understand how the public views household brands and products, government policy, non-governmental organizations, and political parties.
Springboard America earns its revenue from these market research services, and in turn, compensates members a percentage of these earnings for their participation.
Members get paid for participating in online surveys, mobile surveys, and focus groups. New members also automatically get entered into a $1,000 sweepstake. The polls are varied in nature and touch on many interesting topics, which have elicited many positive Springboard America reviews from users.
Payment is via bank transfers, gift cards, e-gift cards, prepaid debit and credit cards, or if you prefer, as a donation to your favorite charity. Processing times vary, anywhere from 2 to 4 weeks.
How Does Springboard America Work?
Springboard America is a free survey panel that offers surveys and focus groups in the US and is free to join.
How to Sign Up
Go over to the Springboard America sign up page.
They may not always be accepting new members, but chances of getting in are higher than with other research sites like NCP. but should there be any openings, the website will indicate this. Keep your eyes open for any recruitment opportunities by checking their website regularly.
To qualify, complete the pre-survey questionnaire.
Once the pre-survey questionnaire is approved, you will be allowed to take your first survey.
Be mindful of including accurate information in your Survey Profile to get studies suitable to your demographic.
Paid Surveys can earn you anywhere from 50 to 500 points, with 1 point equal to $0.01. Payment is dependent on the length of the survey, so you'll have no limit on how much you can earn per survey.
However, the frequency of surveys is quite low, typically 5 to 10 per month, with each one taking between 10 and 30 minutes at most. It may take up to 2 months to earn enough from the surveys to cash out.
Focus groups are more lucrative, and your participation can earn you $100 per study. They are infrequent, however, so keep a close eye out for them once you have joined the panel.
You may also earn money from the site via participating in sweepstakes. These sweepstakes are high-paying and free to join—a favorable critical consideration in this Springboard America review. Recruit sweepstakes worth $1,000 are open to all new members and take place once a year. They also have monthly sweepstakes paying $50 to $100 per winner.
How Do You Get Paid?
The cash out threshold is $50, which is the equivalent of 5,000 points. Rewards and money can be processed through:
PayPal, gift cards
Bank transfers
Prepaid credit or debit cards
Google Play credits
Sweepstake entries
Charity donations
Payment processing can take from 2 weeks to 30 days, which is a negative factor in our Maru Springboard America review.
Is Springboard America Legit?
Springboard America is most certainly legit. They are now part of the Maru Group Canada, established in 2016. This conglomerate offers market research, advisory services, and useful consumer insights to various organizations and companies keen on gathering consumer opinions.
The company is listed on the Better Business Bureau but with a poor F rating. This rating is based on their reliability and authenticity. It could also come from them not responding to customer complaints on the regulatory website.
The company is also active on Facebook, Twitter, and Instagram, where they actively engage their member base.
Here are some comments from the high-authority review websites Sitejabber and Survey Police.
"Springboard America provides surveys that generally don't take more than a few minutes to finish, and even I qualify for many of them. Also, you should reach the $50 payout level relatively quickly. Finally, they recently changed the payment system to PayPal, enabling you to get your payment fast." – Todd H. on Sitejabber July 9, 2016. 

"I have been a member now for 11 months; I have only accumulated $30 in that time. The cash-out minimum is $50. I receive about one survey every two weeks. It is a painfully slow process. It will take me well over a year to cash out. There are better survey companies out there." – Matthew on Survey Police on April 15, 2019.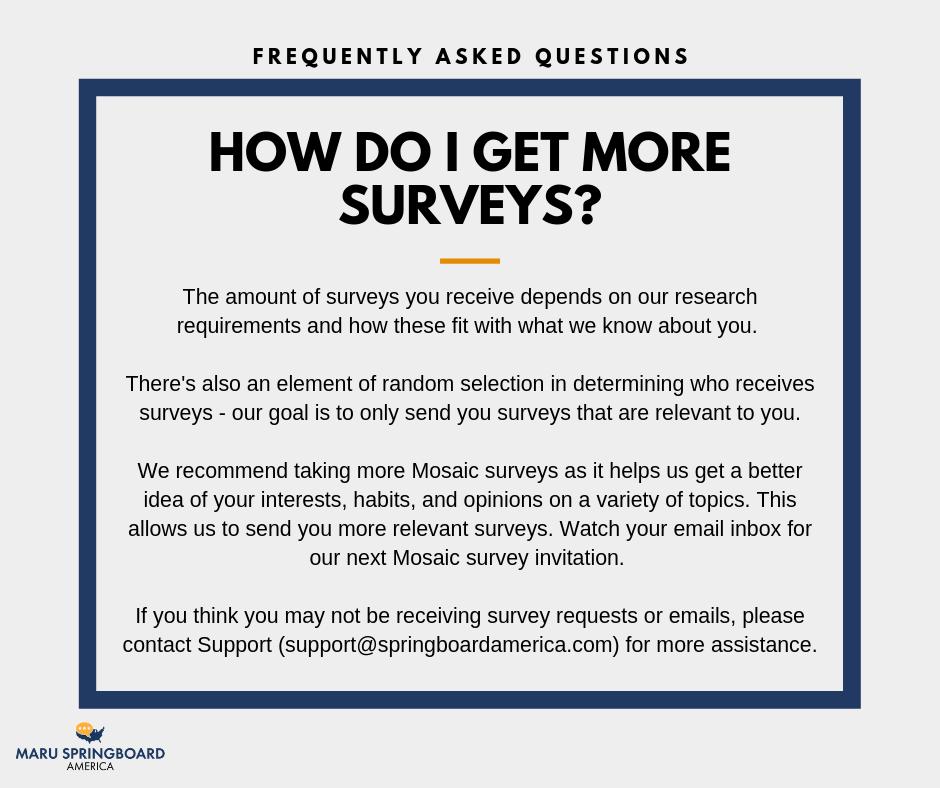 Maru Springboard America – What Works and What Doesn't
Pros
All rewards are presented as their dollar value, so it's easy to keep track of your earnings.
The surveys are short, varied, engaging, and touch on real-life issues—from politics to new products on the market. You really do feel like your opinions and participation may help to shape the various socio-economic and political issues in America.
The survey panel is free to join.
The surveys and focus group activities are high paying. Receive up to $5 per survey and up to $100 per focus group study.
New members get automatic entry to $1,000 sweepstake! You have a real chance of boosting your income from the get-go.
They have a low disqualification rate because they closely match surveys and focus group studies to participants' profiles.
Payment processing is varied and accessible. Cash-out your earnings via prepaid Visa, donations to charity, debit/credit cards, direct bank transfers, sweepstake entries, gift cards, and retail e-vouchers.
Their customer support is on point. They are available around the clock and will get back to you with a response to your ticket within 24 hours.
The website is mobile optimized for mobile surveys.
Cons
The surveys aren't offered often. You have to keep your eyes peeled for those that do come out and grab them quickly before they fill up.
They have a minimal global reach. Only US residents 14 years of age and older can participate in this survey site.
The high cash out threshold of $50 may take quite a while to reach, especially with the low weekly frequency of available surveys.
Payment processing takes a long time. Some survey sites offer instant payments, or at the very least, within 24 hours. With Springboard America, you'll have to wait 30 days after cashing out to receive your money.
Final Thoughts
Springboard America is indeed legit. They offer paid online surveys that pay decent money—up to $5 per survey, enough to boost your monthly income but not enough for a full-time income. Studies may not come around as often as on other sites, but when they do, they're worth taking. Their focus groups aren't bad either, paying up to $100 per study!
They have also invested heavily in their website, making it easy for end-users to navigate, a source of many positive Maru Springboard America reviews. In our opinion, it can be counted among the paid survey sites that offer real value, and what's more, is proactive in improving overall user experience. Definitely worth a shot!