If you are an active trader — and especially in options — OptionsHouse is one of the best trading platforms available. The platform involves a winning combination of advanced technology and low transaction costs.
About OptionsHouse
Based in Chicago, OptionsHouse was founded by PEAK6 Investments LP in 2005. This is significant because PEAK6 was one of the first firms to apply proprietary tools to manage risk in the options market more efficiently.
PEAK6 created OptionsHouse so that they can provide non-professional traders with their risk management technology, low trading prices, and reliable execution methods.
OptionsHouse has gotten high marks in the financial industry. Barron's Review of Online Brokers ranked OptionsHouse on its 2017 list of "Best for Options Traders". This is the ninth year in a row that OptionsHouse has been included on the list.
How OptionsHouse Works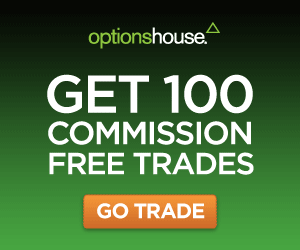 Though the specialization has been on options from the beginning, the platform is also excellent for more conventional investment assets.
It is a full-service discount brokerage. You can hold and trade stocks, bonds, mutual funds, exchange-traded funds and other securities. And you do so with some of the lowest transaction fees in the industry. Moreover, just like other discount brokerage firms, they also offer margin loans with competitive rates.
Of particular interest:
Mobile Trading
OptionsHouse is rated as having one of the better mobile trading apps in the industry. In fact, Barron's gave the Options House Mobile App 4.5 out of 5 stars as one of the trading platforms with the "Lowest Frequent Trader's Monthly Costs". The apps work with iPad, iPhone, Kindle Fire, and Android.
Virtual Trading
This feature provides you with the ability to test and hone your investment skills before you begin live trading. This is particularly important when it comes to options. Though many people have experience trading stocks, options are another matter. The virtual trading platform includes all of the functions and features of the live version of the OptionsHouse trading platform. This means you can simulate trades and test various strategies before investing any of your hard-earned money.
If that isn't enough, there is also a well-stocked library of OptionsHouse Tutorials. The combination of these tutorials, plus the virtual trading platform, will help you become an expert trader in no time, even if you're a beginner. And even if you're a seasoned trader, you could always use the help in certain areas from time to time. OptionsHouse has everything you need to keep you on the trader's cutting edge no matter how long you've been at it.
Customer service is available from 7 AM to 7 PM Central time, Monday through Friday, but not including exchange holidays.
Account Minimums and Low, Low (Did We Say, Low?) Trading Fees
There's a lot of good news when it comes to transaction fees with OptionsHouse. Stock trades are priced at $4.75 per trade, while mutual fund trading fees are $9.95.
The options pricing schedule is as follows:
5 contracts $5.00
10 contacts: $10.00
50 contracts: $16.00
100 contracts: $23.50
Here's more good news, this time on the account minimum front: OptionsHouse has no set account minimums! They do recommend – but not require – that you open your account with at least $1,000, which sounds more than reasonable.
There is a required minimum account of $2,000 for check writing privileges, and a $10,000 minimum for debit cards, which is for both cash and margin accounts. And speaking of margin accounts, there is a minimum required balance of $2,000 to maintain one.
Open up an account today and receive 100 Free Commission Trades
The OptionsHouse Trading Platform
The OptionsHouse Trading Platform is one of the most comprehensive in the industry, with more features than can be adequately described here. But some of the more important features include:
OptionsHouse Risk Score. Risk Score uses proprietary risk-management algorithms to give you a customized analysis of your portfolio's potential risk.

Risk Viewer. Using proprietary algorithms, the Risk Viewer can help you better understand and estimate the potential risk in your portfolio.

Trade Generator. The proprietary technology in the Trade Generator scours the market for options trades and finds new trade ideas that match up with your inputs and sentiment.

Spread Investigators. The Spread Investigators scan the universe of equity options to find call or put spreads with high theoretical returns.

Streaming Charts & News. With streaming charts, news and data you can visualize the market's minute-by-minute movements in a customizable format to follow the market and make well-informed trades.

Profit and Loss (P&L) Calculator. The P&L Calculator offers an educational analysis of complex option strategies. You can use the P&L Calculator to generate on-the-fly "what-if" scenarios about potential trades.

Probability Calculator. The Probability Calculator enables you to enter price targets for a given symbol and find the probability of an underlying symbol reaching these targets on a future date.

Stock Screener. The Stock Screener can help identify interesting potential investments based on your own ideas, market sentiment, and other criteria that you select.

Volatility Charts. The Volatility Charts track changes in both implied and historic volatility to help you analyze volatility trends.
Given the wide range of tools available on the OptionsHouse Trading Platform, which may seem overwhelming. This is why they also include a large number of tutorials. You need to take full advantage of those tutorials before getting too deeply involved in trading.
Retirement Accounts
OptionsHouse includes traditional IRAs, Roth IRAs, SEP IRAs, and 401(k) rollovers. Once your account has been approved and funded you can buy both stocks and call and put options. You can sell covered calls and cash secured-puts, since all of these strategies involve limited risk.
You can also do option credit spreads, but they can only be traded on European style, cash-to-settle indices. European-style positions are held through expiration, and cannot be exercised before. You may also trade debit and credit spreads on equities and on all other indices after completing a Complex Options Agreement. You must be an experienced trader to use the strategies within a retirement account.
Will OptionsHouse Work For You?
If you are going to trade options, OptionsHouse is definitely the place to be. Even if you are just going to do stocks and funds, OptionsHouse is still an excellent platform. The combination of low fees, advanced trading tools, as well as training tutorials, will provide you with the service and tools that can at least match — and often exceed — what you can get with the top firms in the industry.
Do you trade with OptionsHouse? What you like about it – what you not like about it?
Open up an account today and receive 100 Free Commission Trades