As perhaps the best-known of the peer-to-peer (P2P) lending platforms, most people know about Lending Club as a source of loans. But less well-known is that it can also be an excellent place to invest your money.
This is especially true given that interest on traditional bank investments are running at less than 1% for most instruments.
Lending Club can provide higher returns to investors, and often charge lower rates to borrowers, because they cut out the "middleman". Where lending is concerned, the middleman is generally a bank.
A bank may charge 15% on credit card accounts to borrowers, while paying depositors (investors) just 1% on their savings. The 14% spread between the two rates is kept by the bank.
By eliminating that bank function, Lending Club is able to offer a better package to both borrower investor.
Lending Club as a Source of Loans
Lending club has grown to the point where they make many thousands of loans each year (more than $1.6 billion worth in the last quarter alone). This happens because the site offers interest rates to borrowers that are often less than what they would pay at a bank.
In addition, certain borrowers may find that they can get a loan on Lending Club, where they can't get a loan from a bank at all.
The process is also simple and anonymous. The paperwork is mostly completed online, which means that there is no need for a face-to-face meeting with a banker.
That face-to-face meeting can be an uncomfortable situation for a borrower, and it is totally eliminated on Lending Club.
Lending Club personal loan terms. You can borrow as much as $35,000, and the money can be used for just about any purpose, including debt consolidation. Loan terms can run from two years to five years, with interest rates that range between 5.99% and 31.70% APR. And though there are no application fees, borrowers also typically pay origination fees that are equal to anywhere between 1% and 5% of the initial loan amount. Your loan repayment is set up with automatic bank withdrawals, and there are no prepayment penalties.
Lending Club medical loan terms ("Patient Solutions"). In fact, they offer two. Extended plans can be used to pay for fertility, dental, hair restoration, and weight loss surgical procedures – all services that are typically not covered by traditional health insurance policies. You can borrow up to $50,000, with terms ranging from two years to seven years, and it interest rates between 3.99% and 19.99% per year.
Lending Club also offers true note interest plans which offers 0% interest for terms of between six months and 24 months, and for amounts up to $32,000. Once the zero interest term ends, a variable rate of 22.98% applies to any remaining balances.
Lending Club business loan terms. With these loans, you can borrow as much as $300,000, and get a fixed rate loan ranging from one year to five years. Lending Club is currently advertising a business loan rate as low as 5.90% for the strongest borrowers, and origination fees of between 0.99% and 5.99% of the loan amount.
In order to qualify for a Lending Club business loan, you must be in business for at least two years, have at least $75,000 in annual sales, no recent bankruptcies are tax liens, own at least 20% of the business, and have fair or better personal credit.
However, no collateral is the required for loans less than $100,000, and you will not have to provide appraisals, business plans or projections. This makes business loans through Lending Club much more attractive than going through a bank, where getting a business loan is often impossible anyway.
Lending Club as a Source of Investments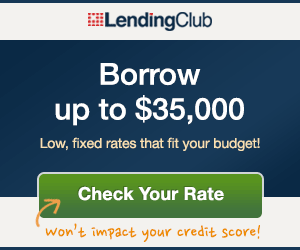 Lending Club has also become a more important source for investments. People who are tired of getting very low rates at their bank are increasingly turning to P2P platforms as a way to earn higher income on their money. In addition, you can also set up an individual retirement account (IRA) through Lending Club.
How does it work?
Investment Returns. Let's start here, since it's the major reason why you would want to invest with Lending Club. The platform currently advertises rates to investors of between 5.06% and 8.74% on its best loan grades. , but you can earn even more on lower loan grades . This is the range that you can expect to earn on loans made to borrowers, ranging from two years to five years, but you can earn even more on lower loan grades.
Lending Club takes the rate that a borrower is paying on a loan, and subtracts a 1% service fee retained by the platform to manage the loan accounts. The rest is forwarded to you as the investor.
Loan Grading. This is the heart and soul of Lending Club. Borrowers are given a loan grade, based largely on credit scores, and ranges from A (highest grade) to G. The average rate ranges from 7.51% for A grades, to 25.13% for G grades. Within each grade level, there are also subgrades (for example, A1 through A5, with five subgrades for each grade) that take into account factors such as loan size and loan term.
"Notes." Each loan that is granted on the platform is sub-divided into increments of $25, which are referred to as "notes". You can purchase an entire loan outright, or you can buy notes in denominations of as little as $25. This enables you to buy a slice many loans, with a minimal investment in each. An investment of $25,000 can be spread across 1,000 notes.
Trading Notes. Lending Club isn't just a platform where you invest. You can also sell notes before they mature, through the sites Note Trading Platform which is handled by Folio Investing. There is a 1% transaction fee charged when you sell a note.
The Reality of Loan Amortization. There's a bit of a catch involved in investing in Lending Club notes. They are self amortizing. That means that loan repayments will include both principal and interest. At the end of the loan term, the note will be completely paid off, and you will receive no additional payments. This is unlike a certificate of deposit where you will invest $10,000, and get the entire principal value back at the end of the term. For this reason, you must continually reinvest the loan repayments that you receive, in order for your money to be fully invested at all times.
Investment Risks – and how to minimize them. One of the reasons why Lending Club notes pay higher rates of return than bank investments is that there is a higher risk of default by the borrower. And unlike bank investments, there is no FDIC insurance to cover such losses.
Lending Club does make an attempt to recover on defaulted loans, however as an investor you will have to pay a collection fee of 18% of the loan outstanding if the loan is at least 16 days past due. If litigation is necessary, you will be required to pay 30% of the attorney's hourly fee plus attorney costs. If the loan is more than 150 days delinquent, it will be charged-off and any uncollected principal balance will be forfeited.
Setting up criteria to minimize this risk is absolutely necessary:
Make sure you have savings and investments outside of your Lending Club account (Lending Club recommends not more than 10% of your net worth be invested on the platform)
Be sure to diversify across many notes, that way you will minimize the impact of a loss on any one of them
Lending Club allows you to set parameters when searching out notes; you can set a minimum credit score of say 700 (the minimum on the platform is 660)
Notes to borrowers who are refinancing existing loans are generally less risky than those which are is looking for fresh financing
Set a low debt-to-income ratio – in the mortgage industry, this is traditionally 36%; you can lower the risk of borrower default by setting an even lower ratio requirementInvestor Requirements. These are mostly set by your state of residence. The most typical requirement is an annual income of at least $70,000 per year and/or a minimum net worth of at least $250,000.Despite the risks, Lending Club is becoming a more popular investment platform all the time. Lending Club has already issued more than $9 billion in loans, and that means more than $9 billion in investor funds. You could be one of them, which will give you a chance to earn much more than you can on a bank investment.