Kabbage is an online financing platform that uses a combination of technology and social media tracking to make loans to small businesses who sell their products online. The company was founded in 2009, and is based in Atlanta. They also have a marketing office in San Francisco, and are planning on launching operations in the United Kingdom.
The company has simplified the process of applying for business loans with the use of an application process that is fully automated, and happens entirely online. The borrower is able to obtain a loan decision literally within minutes.
In addition to the ease of use with the platform, Kabbage also provides loans for businesses that might otherwise have difficulty getting loans at all three traditional bank channels.
The company bills itself as the "#1 Online Provider of Small Business Loans". A borrower can draw against their line of credit as often or as little as they choose. Should they decide to make a draw, Kabbage provides the funds virtually instantaneously.
Kabbage seeks to empower hundreds of thousands of businesses with the funds they need to grow, and without having to turn to difficult sources such as banks.
Though the company has been in business for less than six years they have already funded loans to more than 100,000 small business owners, with total loans exceeding half a billion dollars. That's pretty impressive for a lender that doesn't even have a single branch office!
How Does Kabbage Work?
As noted above, Kabbage provides loans primarily for online businesses. They use various technologies, as well as monitoring the social media, to determine the integrity of those borrowers. Typical borrowers have online businesses that are marketed through eBay, Amazon, Etsy, Shopify, and the Yahoo!Store. Good social media commentary improves your chances of approval, while negative information can work against you.
There are no application fees to the borrower, and creating an account can be done in just minutes. There are no fees until you draw on your line of credit, and fees are based only on the amount of funds that you borrow, and not against the total credit line. Once a credit line is in place, you can borrow against it anytime you like.
Apply for a small business loan today!
You can qualify for lines of credit ranging between $2,000 and $100,000. You can qualify by linking any of your businesses online services. Kabbage uses real-life data and not just credit scores to approve loans.
The draws on a line of credit are required to be paid back over six months, and there is never an early payment fee. The funds that you draw from the line of credit can be used for virtually any purpose.
You simply have to select the amount of money that you need, and the funds will be directly deposited into either your bank account or your PayPal account. You never have to wait for funds to arrive, or have to visit a bank branch to get a check.
Qualified customers can even get funds on the go with Kabbage's new mobile app.
Where the Funding for Kabbage Comes From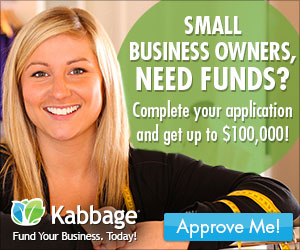 If you're at all like me, then you're probably at least mildly interested in knowing where Kabbage gets the funds that it makes available to borrowers.
Unlike peer-to-peer lending he platforms, such as Lending Club and Blackhawk, Kabbage does not act as an online intermediary between investors and borrowers. The capital that Kabbage lends out comes from very specific sources.
Kabbage gets its capital in large blocks from large organizations. Kabbage is venture funded by Thomvest Ventures, Mohr Davidow Ventures, and BlueRun Ventures. It is also debt funded by Victory Park Capital, as well as from a few large individual funding sources.
Early in 2014, Kabbage closed on a $270 million credit facility from Guggenheim Securities, the investment banking and capital markets division of Guggenheim Partners.
So if you go on the platform expecting a more democratized peer-to-peer lending arrangement, you'll understand why it's more centralized than other online learning platforms are.
Apply for a small business loan today!
Kabbage Pricing
Kabbage advertises that loan fees range between 1% and 13.5% of your selected loan amount for the first two months, then 1% each month for the remaining four months. It also indicates that 12% is the standard loan quote on total upfront fees.
The fees are based on what the platform determines to be your credit worthiness, as well as your reputation in the online business world.
Every month, for the six-month term of the loan, you pay back 1/6 of the total loan amount, plus the required monthly fee. Each draw is treated as a separate agreement between you and Kabbage, and you pay fees only on the amount that you actually draw, and not the line of credit itself.
Will Kabbage Work for You?
If you are a small online business, Kabbage maybe the only consistent source of credit that you can obtain based on your business, and short of pledging personal assets as collateral.
Though the fees seem high –12% on a six-month loan translates to 24% on an annual basis – it's actually comparable to the rate that you will pay on many high interest credit cards. And if you have the ability to leverage the loan proceeds to create rapid growth in your business, the loan fees won't seem nearly as burdensome.
If you have an online business, and even working capital to grow it, Kabbage can be a solid option.