There are online banks – and then there's EverBank. Virtually all banks today are online, and offering the services typical of those of every other online bank. But EverBank sets a new standard – its own standard.
It combines the best of banking and an investment brokerage firm in one online platform. And it offers a mix of products and services that no other bank or brokerage firm does.
What is EverBank?
EverBank is a national direct-to-consumer bank. Headquartered in Jacksonville, Florida, and nominally founded in 2004, it's an online bank that provides both banking and investment services.
The bank operates 11 branches within the state of Florida, however its primary market is nationwide via its online banking platform.
EverBank Bank Products – Banking With an International Flavor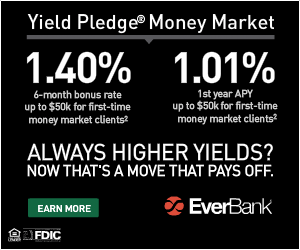 When it comes to online services, most banks and brokerage firms offer products and services that are similar to all the competitors. EverBank offers what other banks and brokerage firms do, but in each category they do even more. For example, while most banks offer strictly US-based investments, EverBank provides savings vehicles based on foreign currencies.
The Basics. EverBank offers the usual products that banks do, including high interest checking, money market accounts and CDs. They also offer "CDARS" – Certificate of Deposit Account Registry Service – which enables them to offer bundled CDs from various banks that will permit your CD investments to exceed FDIC limits while still having the benefit of the insurance coverage.
Since EverBank does not have its own network of ATMs, they offer to refund ATM fees paid to other banks up to $6 per month.
Online and Mobile Deposits. A lot of banks are now offering this service, though a substantial number still don't. But EverBank is generally regarded to be the first non-military bank to offer scanning of checks for deposit into your account. You can either scan and send the check from your computer with their online service, or you can get their mobile banking app to make deposits on the go. The service is available on a 24/7 basis. You don't need to go to a physical bank branch to deposit the check – just scan it and be on your way.
EverCard Visa Platinum Credit Card. EverBank currently offers a 10% rate and 1% cash back or bonus points on purchases. The credit card is automatic when you open a deposit account, and there is no annual fee.
World Currency CDs. These are offered through Brentwood, Missouri based EverBank World Markets. They provide certificates of deposit denominated in foreign currencies, to allow depositors to take advantage of higher interest rate returns in other countries.
Some of the highlights of this investment include:
CDs based on rates available in at least 20 global currencies (involves risk of currency fluctuations)
In terms from 3 to 12 months
$10,000 minimum investment
FDIC insured against bank insolvency (not a guarantee of principal)
WorldCurrency CD Baskets. As if CDs based on foreign currencies weren't innovative enough, EverBank also offers CD baskets comprised of multiple currencies.
Some of the highlights of this investment include:
$20,000 to open
Terms of three to six months
No rollover fees
High yield cash management account
FDIC insured against bank insolvency
IRA eligible
Yield Pledge Money Market, Checking and CDs . EverBank pledges that their accounts will always include yields from the top 5% of competitive accounts. For this reason, yields on EverBank's interest-bearing accounts will always be near the very top of the industry-wide yield curve.
For example, on the Yield Pledge Money Market, the current rate is 1.40% on balances up to $50,000 for the first 6 months, with an APY of 1.01% for the first year. Balances in excess of $50,000 earn an APY of between 1.01% and .61%.
You'll have to look far and wide to find money market yields that are better. And that's the point – when you have money on deposit at EverBank, there's no need to be constantly shopping for the best rates – you'll already have them.
EverBank Investment Products – More Thinking Outside-the-box
EverBank offers investment brokerage services, and like everything else about EverBank, it's investing with a twist.
EverTrade Direct Brokerage You can trade stocks, bonds, mutual funds, exchange traded funds and other securities through this platform.
Some of the highlights of this service include:
No minimum to open
Trade in over 25 foreign markets
Expert support and research tools
Trade online or through a broker
EverBank Wealth Management, Inc. Most banks today offer wealth management services. What sets EverBank apart is the diversity of the investments that they offer. In addition, EverBank Wealth Management will also create portfolios based on your risk tolerance, similar to the robo-advisors like Betterment and Wealthfront.
Investment asset classes included in the service are:
Domestic and international stocks
US and global fixed income securities
Commodities, including precious metals
Hedge funds
Real estate
Currencies
Managed futures
Precious Metals. With the possible exception of bank investments based on foreign currencies, this might be the category that EverBank is best known for. Consistent with banks of yesteryear – and almost alone among banks today – EverBank enables you to hold precious metals. We're not talking about paper investments, like gold stocks and ETF's, but actual bullion coins and bars.
Holding precious metals requires a $5,000 minimum account balance, but they also have a purchase plan that will allow you to dollar cost average into metals at a minimum of $100 per month.
EverBank will either deliver the metals to your home, or safely store them for you. There is a 1% fee for metals that are delivered to you, and 1.5% if EverBank holds the metals in custody.
Metals take the form of 1 ounce and 10 ounce gold bars, and 100 ounce silver bars. You can also purchase 1 ounce gold and silver coins, including American Eagles and Buffaloes, Canadian Maple Leafs, South African Krugerrands, and Vienna Philharmonic's. American Eagles are also available to hold in your IRA account.
Who is EverBank Best Suited For?
It's clear that EverBank is not an ordinary bank. In fact it's an online bank in the truest sense, and they offer investment products that are highly unusual for mainstream banks.
EverBank is well-suited for people who want to diversify their bank and investment holdings beyond the US, US-based investments, and even the US dollar. If you have an interest in truly diversifying beyond the US – without physically leaving the country or moving your money overseas – EverBank is a virtual one-stop shop. And you can do it all with the highest interest income available, and at very low fees. Here's a guide to get you started with your online banking.
That rates EverBank five stars out of five.